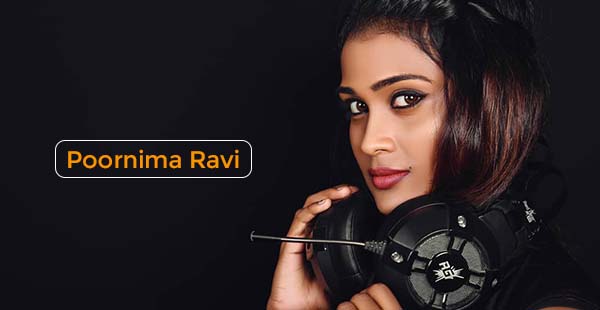 Poornima Ravi is a famous dancer, YouTuber and actress from TamilNadu. She plays an important role in the two popular Tamil youtube channels "Araathi" and Narikootam.
Poornima Ravi Personal life
Poornima was born on October 5, 1995, at Vellore, Tamilnadu for Ravi Somasundaram and Usha Ravi couples. Her mother is a school teacher. She completed her schooling at Shrishti Matriculation Higher Secondary School, Vellore, and a college degree at VIT University, Vellore.
Her Acting Career
During her studies, Poornima is a Professional Artist at VIT Dance Club – Chargers. Later, She was inspired by Andhra girl dubsmash videos and started to do dubsmash. From her Dubsmash videos, She got popularity as well as opportunity in a famous youtube channel "Narikootam" and she has done that as a part-time job along with her full-time job in a popular IT Company. At one point in time, she was fired from her job due to some personal vengeance. Later, she collaborated with Tamada media and started a youtube channel "Araathi". She also appeared in Tamil short films like Ozukkam Kelaayo in 2019, Kaarigai in 2019, Koolaru Kaadhal in 2018.
Once upon a time, Poornima struggled for food, house, and to fulfill her basic needs but she worked hard and her hard work gives her a luxury life. She stays as a role model for all middle-class family girls.
Poornima Ravi Appearance
In Youtube
In Short Films
 Ozukkam Kelaayo in 2019
Kaarigai in 2019
Koolaru Kaadhal in 2018
| Name | Poornima |
| --- | --- |
| Born on | October 5, 1995 |
| Age | 25 |
| Lives in | Chennai, Tamilnadu |
| Profession | Youtuber, dancer |
| Fathers Name | Ravi Somasundaram |
| Mothers Name | Usha Ravi |
| Qualification | BE |
| School Name | Shrishti Matriculation Higher Secondary School, Vellore |
| College Name | VIT University, Vellore. |
| Native | Vellore, Tamilnadu |
| Appearance | In Youtube Narikootam Araathi |
| Relationship Status | Single |
| Source of Income | Youtube |
| Other Names | Araathi |
Poornima Ravi Family
Poornima's relationship status is single and unmarried. She lives in Chennai, Tamilnadu. She has one own brother named "Kishore " and he is married. Kishore works in the IT industry.
Unknown facts of Araathi Poornima
She likes to ride bikes
For a while, she shares the house with 8 boys (friends) because she is jobless.
She used to eat only biscuits for survival in Chennai.
She loves to do TikTok and acquired 255 K followers with 2 Million likes.
Poornima Contact Details
You can contact her by Instagram and Facebook.
Poornima Social Profiles
facebook.com/poornimaaaaa
instagram.com/poornima_ravii/
Also Read About BlackSheep Deepthi, Teju Ashwini, Eruma Saani Harija