Sivakarthikeyan is a multi-talented artist in the Tamil industry who rose from stand-up comedian to actor. He debuted in the television industry as a stand-up comedian in the reality show and now, he is a promising actor as well as box office star. He has done almost 16 movies in Tamil in a short time. Initially, Sivakarthikeyan appeared in only romantic drama movies but now, he starts involving mass and social message movies. Excluding other language movies, Here we listed the Best 10 Sivakarthikeyan movies.
Sivakarthikeyan Movies (2010-2015)
1. Manam Kothi Paravai
The romantic drama movie 'Manam Kothi Paravai' was released in 2012 under the direction of Ezhil, starring Sivakarthikeyan and Athmiya as the lead while Ravi Mariya, Singam Puli, and Soori are in supporting roles. The music was composed by D. Imman and the cinematography was done by Sooraj Nallusami. Manam Kothi Paravai is a commercial success love story like other Tamil romantic movies.
Best Songs of Manam Kothi Paravai: Yenna Solla Yethu Solla, Ooraana Oorukkula.
2. Kedi Billa Killadi Ranga
Actor Vimal and Sivakarthikeyan have combinedly done the movie 'Kedi Billa Killadi Ranga' with Bindu Madhavi and Regina Cassandra as female leads. This political comedy-drama movie was directed by Pandiraj and released in 2013 under the banner 'Escape Artists Motion Pictures'. Yuvan Shankar Raja gives the best songs, as well as music, and Vijay Ulaganath is the cinematographer of this movie. This movie promotes the father's love towards his son, who is aimless and passing their time in political parties.
Best Songs of Kedi Billa Killadi Ranga: Dheivangal Ellaam, Oru porambokku
3. Ethir Neechal
The motivational sports movie 'Ethir Neechal' was released in 2013 under Dhanush's production banner Wunderbar Films. R.S. Durai Senthilkumar made his directorial debut in this movie, with the performers Sivakarthikeyan and Priya Anand as lead roles. Where, Nandita, Sharath Lohitashwa, and Sathish are in supporting roles. Anirudh Ravichander composed music for the first time in the Sivakarthikeyan lead movie and Velraj captured the scenes. This movie narrates the story of a middle-class man who is eager to achieve something in his life.
Best Songs of Ethir Neechal: Local Boys, Ethir Neechal
4. Varuthapadatha Valibar Sangam
'Varuthapadatha Valibar Sangam' is a village-based love story released in 2013 under the banner ' Escape Artists Motion Pictures". This romantic comedy-drama movie was directed by Ponram with the stars Sivakarthikeyan, Sathyaraj, Sri Divya and Soori. D. Imman is the music composer in the movie and the cinematography was done by Balasubramaniam. Varuthapadatha Valibar Sangam is a commercial success movie that represents the love story between jobless Bosepandi and a wealthy man's daughter, Lathapandi.
Best Songs of VaruthaPadatha Valibar Sangam: Paakaathey Paakaathey, Indha Ponnungale
5. Rajini Murugan
Sivakarthikeyan and Keerthy Suresh pair for the first time in 'Rajini Murugan', a comedy-drama movie directed by Ponram under the production banner 'Thirrupathi Brothers'. While Rajkiran, Samuthirakani play supporting roles. D. Imman's music and Balasubramaniem's cinematography took a major part in the movie. The movie was released in 2015 and won decent reviews from the audience. "Rajinimurugan" is a common love story like other love stories but its portrayal is best.
Best Songs of Rajinimurugan: Un Mele Oru Kannu, Chellakutty Unna Kaana
Sivakarthikeyan Movies (2016-2020)
6. Remo
'Remo' is a commercial success movie made by debutant director Bakkiyaraj Kannan with the stars Sivakarthikeyan and Keerthy Suresh in the lead roles alongside Sathish, Rajendran, Aadukalam Naren, Anson Paul, K.S. Ravikumar, Saranya Ponvannan and Sri Divya are in supporting roles. Anirudh Ravichander joins again with Sivakarthikeyan after Ethir Neechal and Maan Karate. Cinematographer P.C. Sreeram visualized the movie. The movie was produced by ‎24 AM Studios and released in the 2016 Dussehra festival. The movie is about a jobless youngster, who changes his getup to ladies nurse for his love, a doctor. He performed well in women's characters and was appreciated by many. Remo was inspired by  "Avvai Shanmugi", one of the best movies of Kamal Hassan.
Best Songs of Remo: Senjitaley, Meesa Beauty
7. Velaikkaran
'Velaikkaran' is a social message movie directed by Mohan Raja and released in 2017, Where Sivakarthikeyan, Fahadh Faasil, Nayanthara, and Sneha in lead, alongside Prakash Raj, Sathish, Thambi Ramaiya, RJ Balaji, Vijay Vasanth, and Robo Shankar are in support roles. Anirudh Ravichander sets music as well as a background score for this action thriller movie and camera work was done by Ramji. This movie is about a normal sales executive who is raised against the corporate due to the lack of their product quality.
Best Songs of Velaikkaran: Ezhu Velaikkara, Iraiva
8. Kanaa
Two friends Arunraja Kamaraj and Sivakarthikeyan made their debut as Director and Producer in the movie 'Kanaa', where the stars are  Aishwarya Rajesh, Sathyaraj and Darshan. Sivakarthikeyan made a special appearance in the movie as a coach. Dhibu Ninan Thomas plays music and background score with the visuals from the cinematographer Dinesh Krishnan. The movie was released in 2018 and appreciated with decent reviews. The main theme of this movie is to promote women's games as well as women's freedom.
Best Songs of Kanaa: Vaayadi Petha Pulla, Othaiyadi Pathayila
9. Namma Veetu Pillai
'Namma Veetu Pillai' is a sentimental action drama movie directed by Pandiraj, with stars Sivakarthikeyan, Anu Emmanuel, and Aishwarya Rajesh in the lead roles. Samuthirakani, Soori, Bharathiraja, and Natarajan Subramaniam in the supporting roles. D. Imman gives his best music and background score as well as the best visuals from Nirav Shah. The movie was released in 2019 and hit box-office. This movie raises Sivakarthikeyan from the series of flops. This movie states the struggles and sentiments between brother and sister.
Best Songs of Namma Veetu Pillai: Unkoodave Porakkanum, Gaandakannazhagi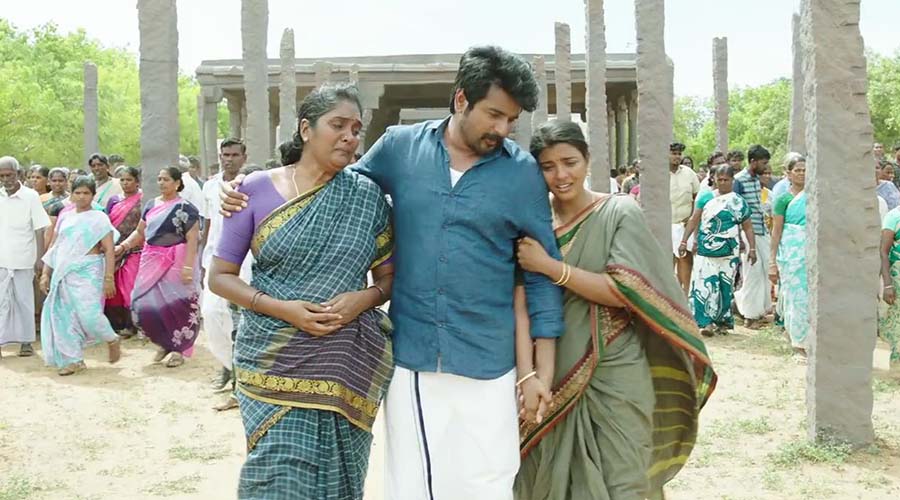 10. Hero
The science-fiction movie 'Hero' comes under the direction of P.S. Mithran after Irumbu Thirai, starring Sivakarthikeyan, Arjun, Abhay Deol, Kalyani Priyadarshan, and Ivana aka Aleena Shaji. Yuvan Shankar Raja joins for the second time with Sivakarthikeyan after 7 years. The cinematography was handled by George C. Williams And released worldwide in 2019. In this movie, Sivakarthikeyan plays a superhero role that protects and brings young scientists to the world. Best Songs of Hero: Hero Title Track, Aayiram Mugangal