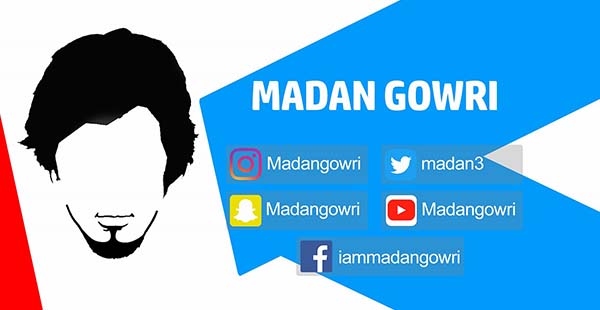 Madan Gowri is one of the most popular Indian YouTubers from Tamil Nadu. Madan Gowri videos are predominantly in the Tamil language. He is one of the prominent social media influencers in Tamil. Check out below to know more about Madan Gowri.
Madan Gowri Early Life
Madan Gowri was born on 28th May 1993 in Thoothukudi, Tamil Nadu, India. His parent's name and other personal details are unknown. He grew up in Madurai and completed his school studies at Sainik School, Amaravathinagar, and Dolphin Public School, Madurai.
His Educational Details
Later he did his under graduation in Kalasalingam Academy of Research and Higher Education, Srivilliputhur, and then completed an MBA in Amrita Vishwa Vidyapeetham, Coimbatore. He completed his Master of Science (MS), Management, and Business Analytics degree at State University of New York at Buffalo. He worked as an Engineer trainee in Cognizant Technology Solution, Chennai.
Madan Gowri Career Growth
He started his official YouTube channel on 5th December 2013 and uploaded the videos by recording through his smartphone. Later he came up with a wall covered by a newspaper as a background for his videos and following till now.
The method he follows to create every single video is very simple without any special editing. He just speaks spontaneously in front of the camera and explains the content in a simple way so that the viewers could understand easily like a friend talking to us face to face. It made his videos more connective for all age group audience. Before explaining the topics, he makes some intensive research on various websites and articles available on the internet and covers it in a single video for about 15 to 20 minutes.
He has created videos about many general topics under politics, entertainment, facts, myth, and even more sensitive topics like homosexuality, prostitution, porn industry, and menstruations.
He was working as an analyst in an IT company and quit his job to pursue his passion.
Madan Gowri Personal Life
Madan Gowri is not yet married and has no girlfriend. But in one of his interviews, he said when he was studying college final years, he had a break up with a girl and went into severe depression. Somehow he started to watch some youtube videos and could overcome that situation. Added to that he likes to hang out with friends, Roaming in bike at late nights, and to explore nature.
His Physical Appearance
Madan Gowri's height is 1.75 m and weight is 60 kg. He has black hair and black eyes. He belongs to the Hindu religion and his caste details are unknown.
| Name | Madan Gowri |
| --- | --- |
| Born on | 28th May 1993 |
| Age | 27 |
| Lives in | Chennai, Tamilnadu |
| Profession | Youtuber |
| Relationship Status | Single |
| Qualification | MS |
| Stream | Management and Business Analytics |
| School Name | Dolphin Public School, Madurai. |
| College Name | State University of New York at Buffalo |
| Native | Thoothukudi, Tamil Nadu |
| Appearance | In Youtube |
| Girl Friends | None |
| Source of Income | Youtube |
| Other Names | Madan, Gowri |
His Achievements
Madan Gowri is the first individual Tamil YouTuber to reach 1 million subscribers and received a gold play button from YouTube after some of the top youtube channels like Black Sheep Tamil. He has also interviewed Indian cricket bowler Harbhajan Singh in a popular YouTube channel called Behindwoods and has given TEDx talks.
At now his channel has 2.73 million subscribers. Even now he is uploading videos for almost every single day and some of them are about current trending topics or incidents happened around us.
Gossips about Him
As everyone knows, every celebrity will comes under some gossips. Like that Madan Gowri also accused of many gossips like adult chat with his girlfriend, spreading fake news. However, he took everything as stepping stone and rocking in YouTube