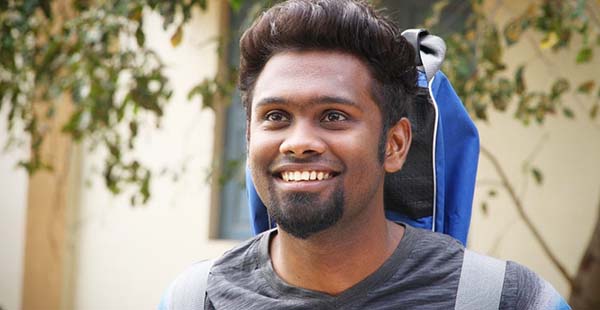 R.Vijay Kumar, known by his stage name "Eruma Saani" Vijay is a well-known YouTuber, support actor, and huge inspiration for youngsters and YouTubers who want to become a successful person in silver screen but has no background. If we consider someone as our inspiration, definitely they overcome many obstacles in their life. Eruma saani  Vijay also faced lots of struggles in his successful career path. Check out below to know more about Eruma Saani Vijay
Eruma Saani Vijay early life
Vijay Kumar was born on 21st July 1995 at Coimbatore, Tamilnadu, India. His father's name is Rajendran. The mother's name and family details are yet to updated. He is familiarly known as Vijay Viruz and Eruma Saani Vijay.
Eruma Saani Vijay education details
He completed his schooling at Lisieux Matriculation Higher Secondary School, Coimbatore and he completed B.Sc Visual Communication in PSG College of Arts and Science, Coimbatore.
His personal life and career growth
During his college days, Vijay and his friends decided to take up short films. But they had no money to invest. So he went to work with his friends as a photographer for functions like marriage and ear-piercing. Then they ran clothing store by investing the money which comes as a photographer. With the profit from the shop, he started viruz studio and they took short films.
His short films like kanne kalaimaane, oru naal, manam are award winning shortfilms. After completing a degree, he approaches many producers to produce his movie. But due to his age factor and inexperience, no one came forward to produce his movie.
A frustrated Vijay was going bouncer for pubs and weddings. During the jallikattu protest, he went bodyguard for hip hop Adhi. At that time, he and his friends started a youtube channel named "Eruma Saani" based on the hip-hop Adhi advice & motive.
Initially, the youtube channel named "Jigarthanda", then they changed the name to "Eruma Saani". After one year, he again met hip-hop Adhi, and showed up on his youtube channel was going successfully.
Seeing his curiosity and talent, hip-hop Adhi introduced him to Director Sundar.C. Then he committed with the films like K-13, 100, and Natpe Thunai as a supporting actor. Now he acts in a lead role in "Adhu Enga Raja Kaalam" a web series and also act in "Odavum Mudiyathu Oliyavum Mudiyathu" film.
His monthly income
He got income from various sources like youtube & movies. A detailed income sheet will be updated soon.
| Name | Eruma Saani Vijay |
| --- | --- |
| Born on | 21st July 1995 |
| Age | 25 |
| Lives in | Chennai, Tamilnadu |
| Profession | Youtuber & Actor |
| Relationship Status | Single |
| Well Knows as | For Youtube Channel Eruma Saani |
| Qualification | B.Sc |
| School Name | Lisieux Matriculation Higher Secondary School, Coimbatore |
| College Name | PSG College of Arts and Science, Coimbatore. |
| Native | Coimbatore, Tamilnadu |
| Appearance | In Movies, In Youtube |
| Father Name | Rajendran |
| Source of Income | Youtube & Television |
| Other Names | Vijay Kumar, Vijay |
Vijay achievements
"Eruma Saani" Vijay is the managing director of Youtube channels named Viruz studio and Eruma Saani. Now, the Eruma Saani team made a film named "Odavum Mudiyathu Oliyavum Mudiyathu" produced by Sathyamurthi and directed by Ramesh Venkat a debut director.
His turning point
Vijay's inspiration is hip-hop Adhi. Vijay thought his life was going to be a bouncer or the person who is looking for opportunities for the director, but when he met hip-hop Adhi, his life was turning to a successful path. So he proves that, if life gives a chance, catch it like a monitor lizard. Now he also helps and gives hope to talented youngsters.
Eruma Saani Vijay Images