Fifteen years ago, we saw that our streets were filled with lots of children. They have created many games to play happily and healthily. But now, smartphones and televisions have ruined those games as well as our children's health.
Most of the outdoor games known by this generation kids are very less. Our 80's & 90's games have the capability to give more interest and help to increase our brain thinking ability. Some ancient traditional games are listed out here before they are forgotten.
9os Kids Games for Boys
1. Tyre Vandi
Tyre Vandi is the most ancient and popular game among the 80s & 90 kids. This game is played with an old cycle or bike tyre and a stick. We usually use this vehicle to go to the grocery store.
2. Bambaram
Bambaram is played across many countries. It is played with a wooden body and nail tip combinedly called Bambara katta with a long string. Whose Bambaram spins for more time will be declared as the winner.
3. Pattam
Pattam is a seasonal game. It will be played between the months of March and June because these months have decent wind speed to take off our kite. The highest-flying kite will be declared as the winner.
4. Ghilli
Ghilli is the double player or multiplayer game. It is the oldest version of cricket and it is also known as "Indian cricket". It will be played with one long and one sharp edges short stick. This game is mostly played by boys.
5. WWE Cards
WWE cards is one of the most famous games among the college and school childrens during the 90s. It's also a double or multiplayer game. The guy who has more cards will be the winner.
6. Goli Kundu
Goli Kundu is a multiplayer game. Goli Kundu is the only needed thing in this game. Who hits more golis will be declared as the winner.
90s Kids Games for All
7. Cycling
Cycling is the upgraded version of Tyre Vandi. As our parents can't afford to buy a cycle for us and it's rare. So we save money and do cycling by renting a cycle in the nearest renting shop.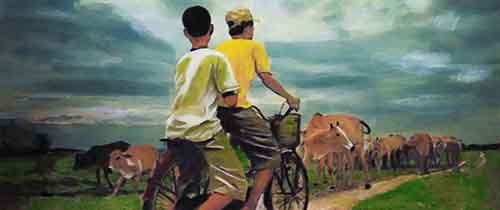 8. Nungu Vandi
Nungu Vandi Oftenly plays in the village sides. It's made with two same-sized sugar palm and a long stick. A bottle is used as a front Differential. Even now, we can find these games played by children.
9. 7 Stone
7 stones will be played between two teams (runner and hitter). This game is played with a boost ball and flat 7 stones. If a hitter hits all the runners before the seek of 7 stones, then the hitter will be the winner. If not, the runner will be the winner.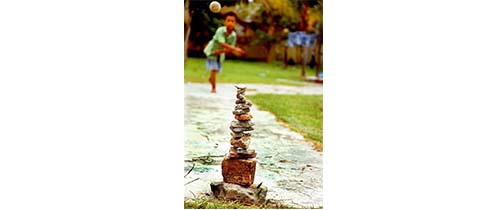 10. Uppu Mootai
Uppu Mootai is not a competitive game. It's just fun and mostly played by girls. Uppu Mootai is about lifting another person on our back and should roam.
11. Kanna Moochi
Kanna Moochi is the only game we can play whenever and wherever. It's also played in family functions. There are various methods in Kanna Moochi like Kannai Katuthal, Ice Boy, Thirudan Police, and more. Ice is mostly played in the streets.
12. Pacha Kuthirai
Pacha Kuthirai is a double player or multiplayer game. The one should bend to allow other players to jump. The highest jumping player is declared as the winner. Jan Japan is similar to Pacha Kuthirai.  Jan Japan is mostly played by girls.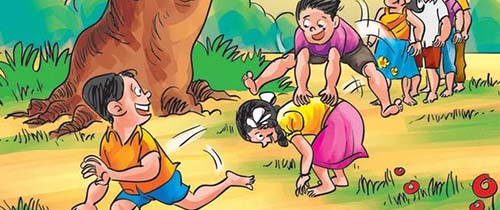 13. Kichu Kichu Thambulam
Kichu Kichu Thambulam is also a teamwork game. The one team should hide the stick inside the sand and the other team should find the stick.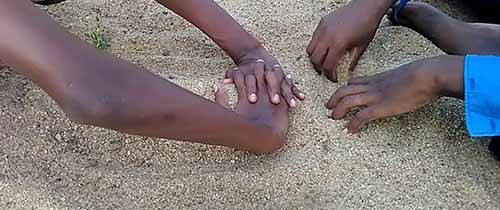 14. Carrom Board
Carrom Board is a well-known game even among this generation of children. This game is mostly played in citied and rarely in villages because the carrom board is costly. It is a double or multi-player game. The person who draws the more coins will be the winner.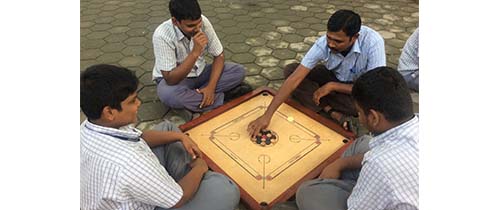 15. Raja Rani
Raja Rani is also an indoor game played with a piece of paper. This game has four major roles: Raja, Rani, Thief, and Police. The police should find the thief correctly to score the point. If not, the thief will score the points.
16. Pei Otrathu
Pei Otrathu is a fun game, not a competitive game. It is played with paper and magnet.
17. Video Game
Video game players are the low budget pubg for our 90's kids. These video game players contain more than 1000 games but we only play construction and car racing games. Brick games are the popular 90s video game.
18. Nooran Kuchi
Nooran Kuchi is played with sticks. It is cost-effective and one of the interesting indoor games. This game will be played by all genders and all age groups.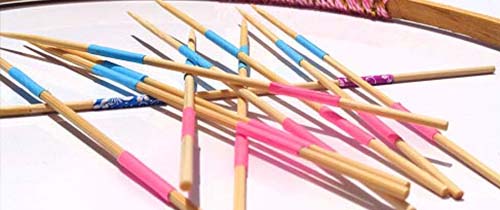 19. Aadu Puli Aatam
Aadu Puli Aatam is the strategic planning game. It is the double player game. One should play to save goats from tigers and other should play to save tigers from goats. Finally, goats are safe or tigers will be blocked.
20. Kola Kolaya Mundhirika
Kola Kolaya Mundhirika is played mostly in the state of TamilNadu. It is a multiplayer game and played in functions. The person who has more attention and running power will win this game.
21. Dhaya Karam
Dhaya Karam is a well known indoor game among all the age group peoples. It recently trended and played in all the families during the corona lockdown period. It is played with rolling dice.
22. Parama Patham
Parama Patham is also similar to Dhaya Karam. It is also played with dice. We should claim the ladder without trapping a snake. It's also a popular indoor game.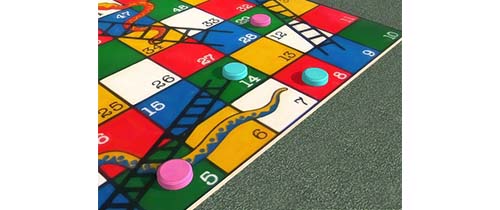 90s Kids Games For Girl
23. Nondi
Nondi is played by girls. It is played with a flat stone.
24. Skipping
Skipping also mostly played by girls. It is played with a long string. The girls who skip more will be declared as winners. This game increases your height and stamina.
25. Achang kallu
Achang kallu played with a number of stones and with our hands. It is an indoor game and played mostly by girls.
Still, there are 1000 of 90s kids games in Indian. If you any suggested games, feel free to suggest to us !!